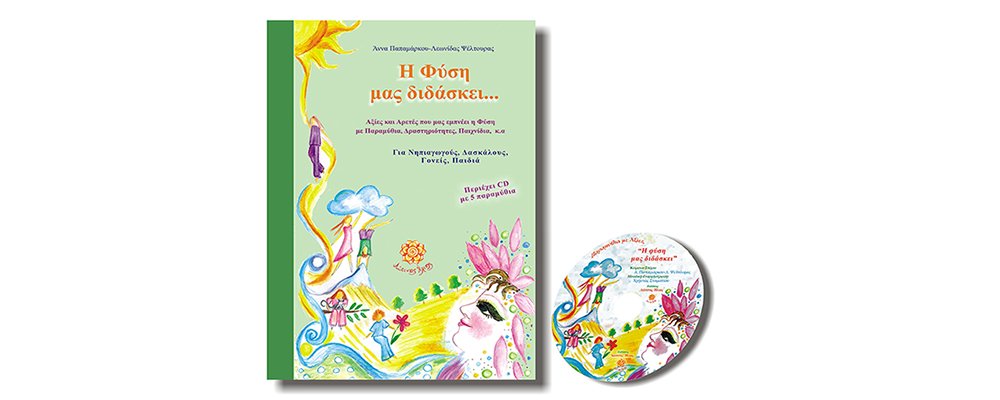 Book with CD
Writer: Anna Papamarkou - Leonidas Pseltouras
Illustrator: Anna Papamarkou Language: Greek Dimensions: 21x28 Page count: 78 Book cover: Hardback 1st edition: 2009 ISBN:
Price: 15.00€
Δείτε δείγμα του βιβλίου σε pdf
Order
A valuable book for Nursery/ Primary School Teachers and Parents 
Nature is a treasure of symbolisms: its example shows us the optimum way to live, think and feel in complete harmony.
The book`s aim is to inspire Children and Young people using storytelling, interactive playing, Art and Debate in order to discover "Nature`s book of Wisdom" and learn to listen into Nature`s guidance and encouragement.
Guidance, full of undisputed life values, such as Joy, Friendship, Gratitude, Love, Selfless Service.  Gentle encouragement towards treasures like Courage, Self Confidence, Hard Work, Cooperation and Persistence.  The values Nature has been teaching us about are only the real , eternal values that transcend humanity and lead us to self realisation, self fulfillment and happiness.
The book is based on 5 inspiring fairy tales, many original poems and true stories on Nature and its creatures. Each unit is a complete lesson plan enriched with ideas for groupwork, making things, theatrical play, dramatization, riddles, crosswords and many more fun and learning activities.